Support Our Troops Rally 3/29/2003
"Outpost 122"
Camp Murray, south of Tacoma, WA
March 29th, 2003



Washingtonian members of FreeRepublic (http://www.FreeRepublic.com) joined many other Pacific Northwesterners in the latest of ongoing rallies of Operation Support Our Troops (http://www.ron-siddell.com ). This time it was held at "Outpost 122", the popular name for the entrance to Camp Murray at Exit 122 from I-5, south of Tacoma.

The rally was scheduled for 11:00 AM to 1:00 PM, but as usual it got off to an early start. Those driving in from the north got a hint of what was coming as rally-goers appeared on a number of overpasses approaching Outpost 122. At 10:20 AM, the rally was already well underway: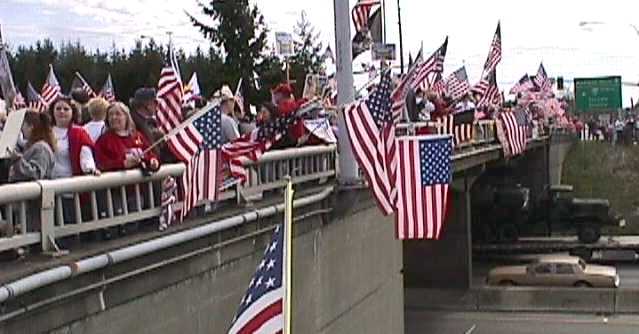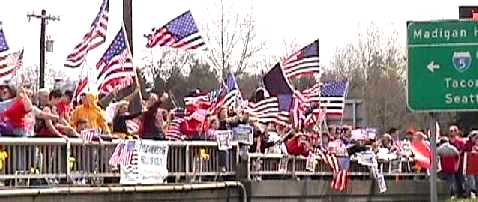 Walking in after parking their cars, rally-goers passed a booth set up by KVI (570 AM), with morning talk show host Kirby Wilbur broadcasting live from the rally, 10 AM to 2 PM.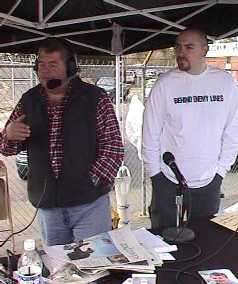 When they reached the bridge, it was solid crowds.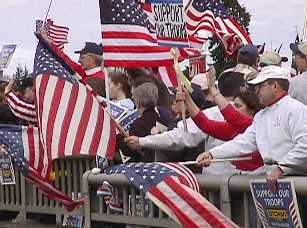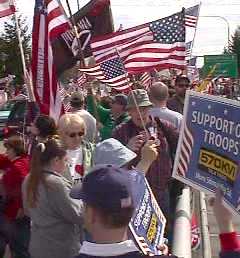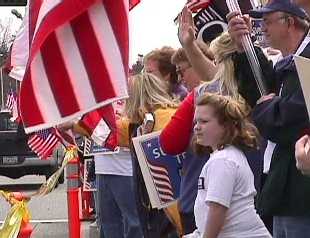 And there could be no mistake by those passing through on the freeway what was happening above.
People (well-behaved, by the hundreds and thousands), American flags, service flags, South Vietnamese flags (yellow with red stripes) , signs and banners. This is a rally to Support Our Troops !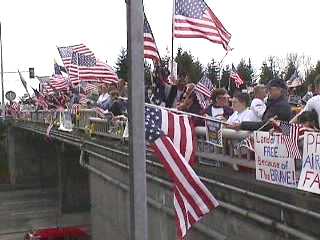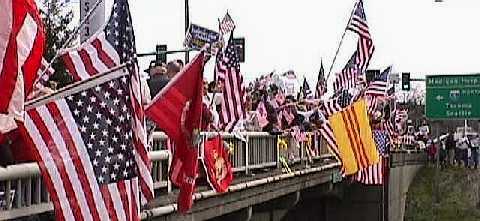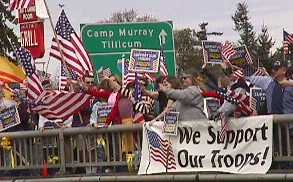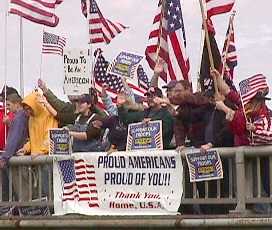 A group of 200 or 300 motorcyclists passed through the rally early on, in a big show of support. Such is the utility of the Internet, the preparations for the ride began with a single e-mail suggestion. Some stayed on for the rally.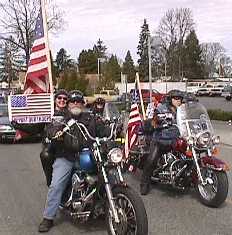 A steady stream of cars passed through the rally on the overpass. Many were on their way to join the rally. Others were entering or leaving the base -- and some of those were in tears, seeing the support gathered outside. Some held their cellphones out the window to pass on the sounds from the rally. And many waved, honked, flashed their lights, or yelled to say," Thank you!"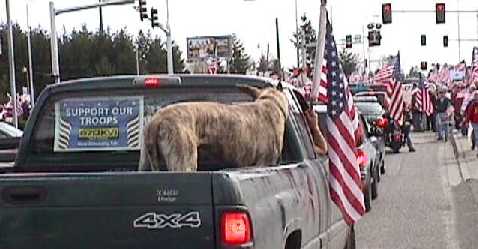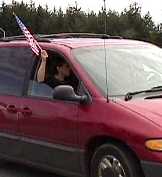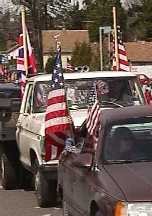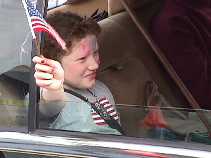 Some people were proud to note their sons and daughters currently serving in the Armed Forces. Knowing the risks their sons and daughters are undergoing in the defense of of liberty, we should all say to them, "Thank you!"
And pray for the safe return home of each and every one of those sons and daughters.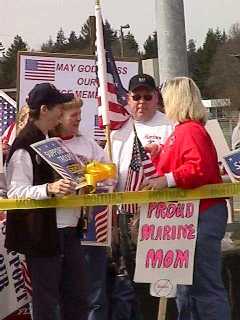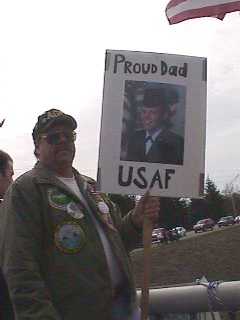 Pictured in the signs below are Captain Jesse Chaquette, who is currently at Fort Lewis, and 1st Lieutenant Ryan Chaquette, who is at Fort Carson, CO, and who has received his orders to depart for the Middle East on
<mmmmmmmph!>
..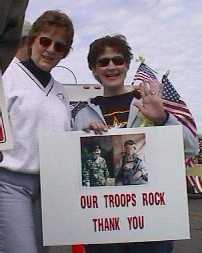 It is always interesting to see the great variety of folks who turn out at these rallies, a true cross-section of true Americans -- whether American-born or not! We lead off here with FreeRepublic's own Libertina.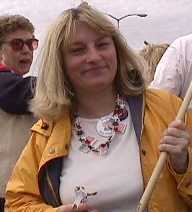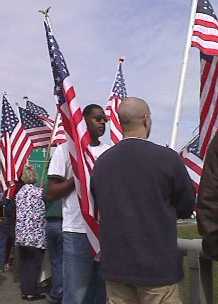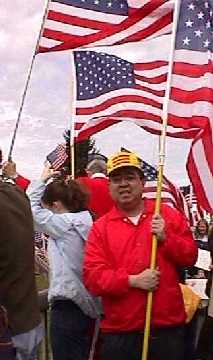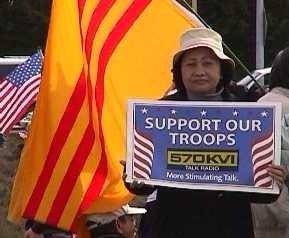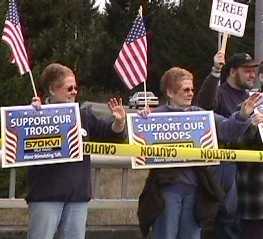 A couple of Highland Pipers showed up in uniform with their Scottish breathalyzer kits. (Bagpipe joke time: Q: "Why are pipers always marching to and fro?" A: "It's harder to hit a moving target.") Glé mhath, guys!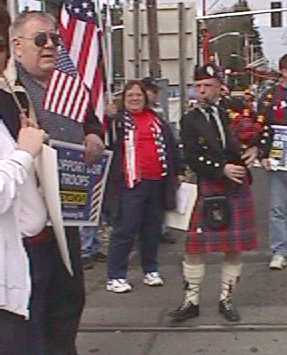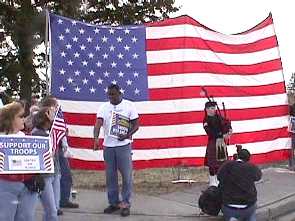 And a man in a kilt always draws the ladies' eyes. Click on the picture to hear the piper, and the sounds of the rally. (Warning: 243k MP3 file.)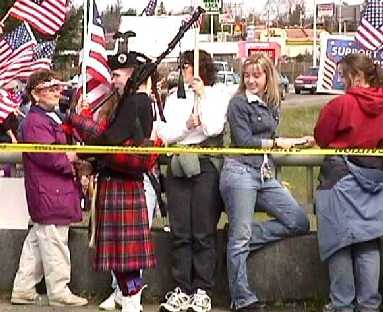 Most precious, of course, are the children.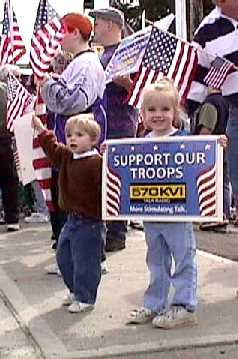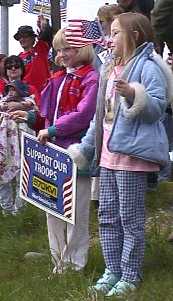 And where you find children, of course, you'll find the good old all-American ice-cream man. Yum!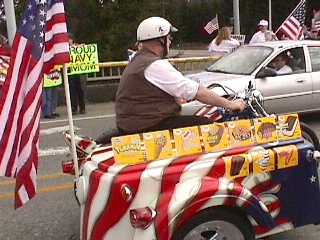 With good weather, friendly folks, kids and an ice-cream man, the rally took on more of a tone of celebration. People brought chairs and coolers, and soon many were sprawled across the grass as if this were a picnic. Well, why not?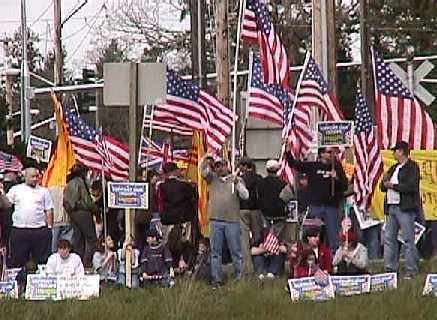 But this was a rally, and at such a rally you will find a plethora of signs, expressing a broad range of opinions. This rally was no different. In no particular order, some of those are presented here.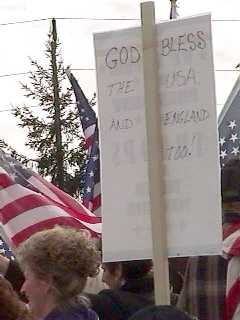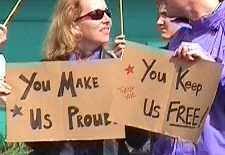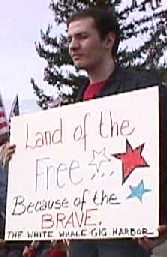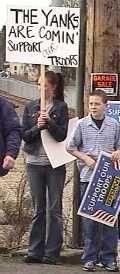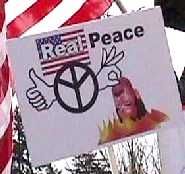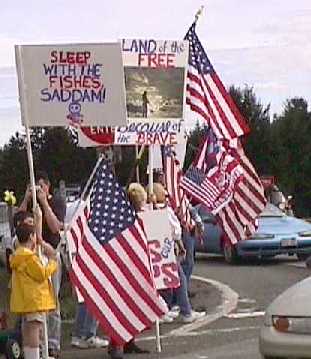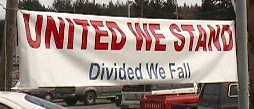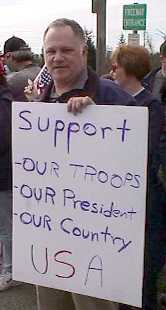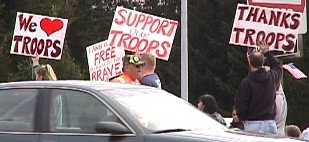 There was, as always, a banner to be signed by those present and then sent to the troops. The "Wall of Honor", present at other Support Our Troops Rallies, was also present.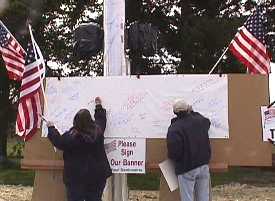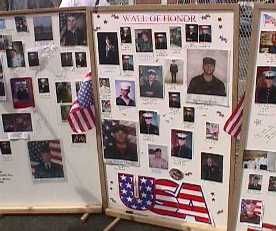 An all-American Support Our Troops rally would not be complete without flags. And were there ever flags there!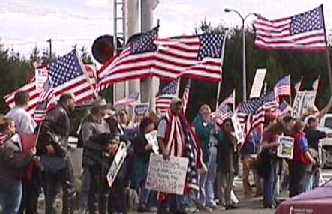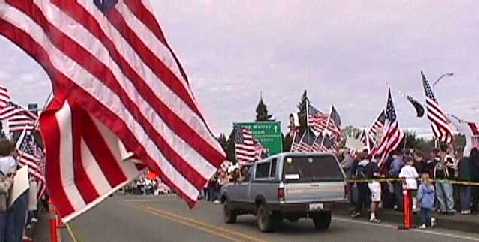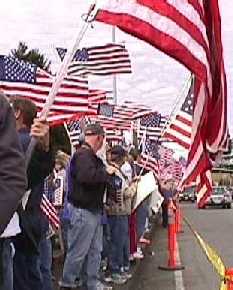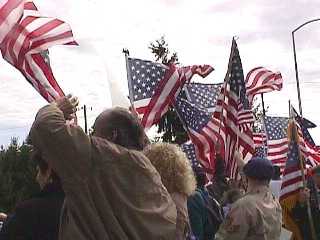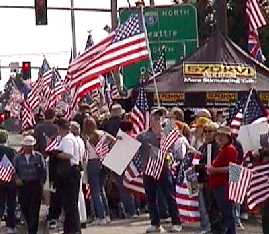 Red, White and Blue were everywhere. Somebody even put a red-white-and-blue bow on the crosswalk button!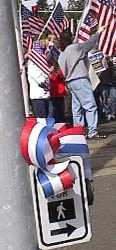 There also flags celebrating other members of the Coalition as a reminder that we are not in this alone, we are not acting unilaterally.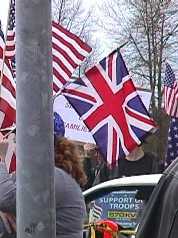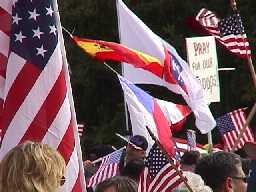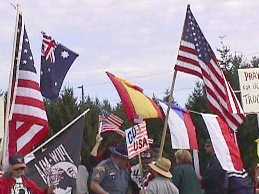 This sign summed it up rather neatly.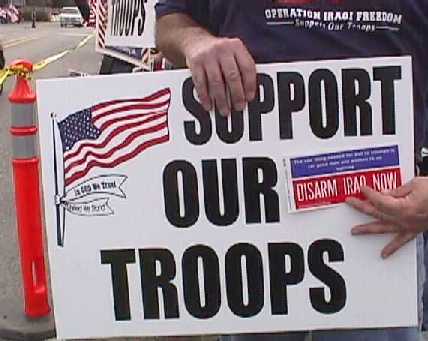 See pictures from other rallies.