Seattle FReep -- "Lying History" Book-signing -- After-Action Report
8/06/2003




On Wednesday, August 6th, 2003, Her Royal Heinous Hillary Rodham Clinton (HRH HRC) came to Seattle to sign copies of her book, Living History. Of course, this being a Clinton affair nothing was exactly as it seemed, and so it is necessary to dot the 'i's, cross the 't's, define "is" and set the record straight. The signing wasn't in Seattle; it was in the City of Lake Forest Park, in the Lake Forest Park Mall, at Third Place Books. But the ever-vigilant Puget Sound Chapter of FreeRepublic quickly caught on to the deception and so were on hand to greet HRH HRC in the same warm and welcoming manner she has come to know, love and enjoy from FReepers at stops all across the nation.

The crowd had formed early.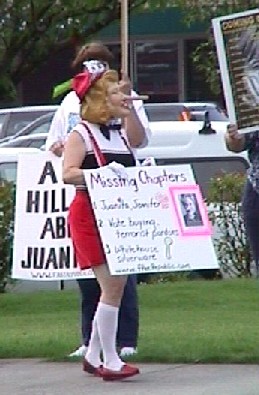 But fearlessly leading the way was Puget Sound Free Republic Chapter President Libertina, dressed as Clinocchio.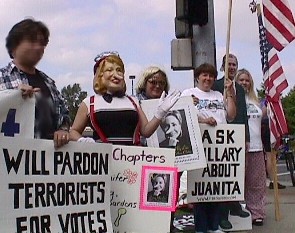 FReepers (including here Libertina and LibreOuMort), FR lurkers, and others turned out for the FReep (and it was even mentioned on local talk radio as such -- thank you Kirby Wilbur and stand-in Dave Gold of KVI 570 AM).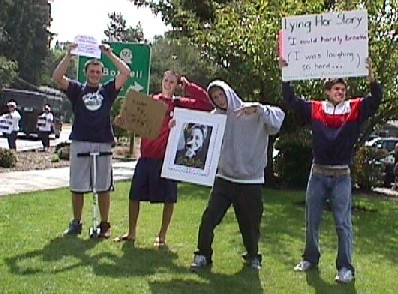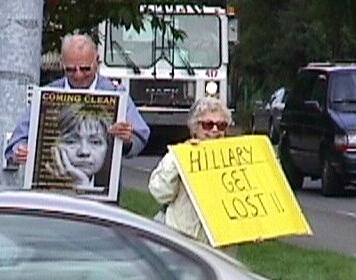 .

Even President Bush was seemingly there.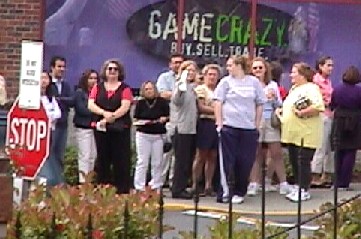 Needless to say, this got a fair amount of attention from the crowd waiting in line ("What's going on over there?").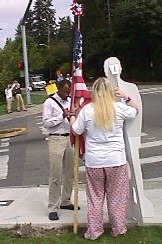 And that brought the press and the cameras.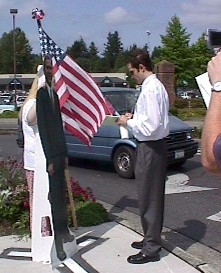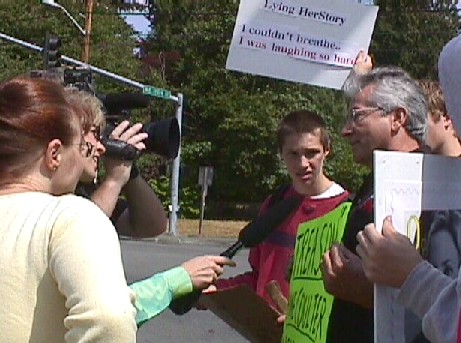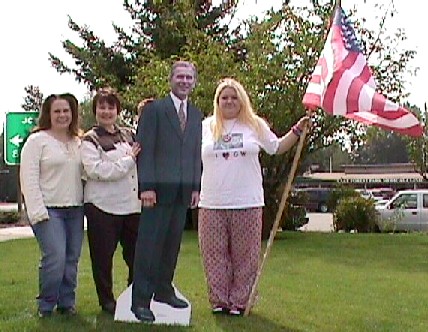 And it brought visitors over.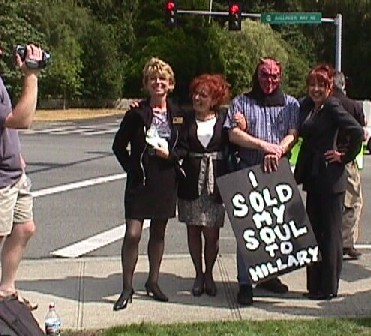 Including these women, posing with Eala.


The following are some of the signs people brought: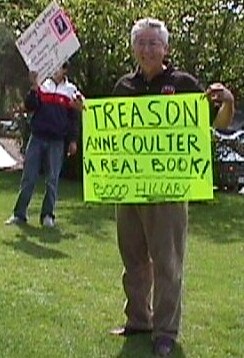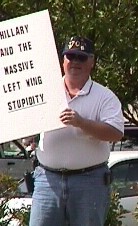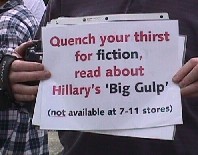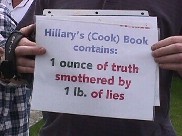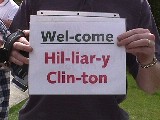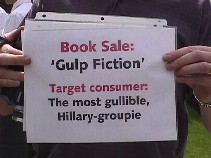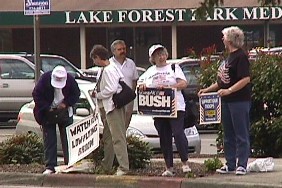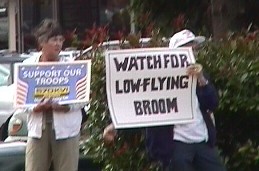 At the end of the book-signing, the group anxiously waited at an exit from the parking lot for HRH HRC to pass by, so they could deliver their message directly. There was considerable disappointment when the entourage left via a different exit further up the road... but then it turned right and brought HRH HRC right past the crowd, who saw her getting full view of the greeting prepared for her -- Clinocchio, devil mask, signs and all, including the following banner -- a perfect finale!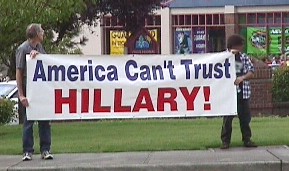 .
Many, many thanks to:
FReeper BobJ ("Bob J"?) for the FreeRepublic Network (FRN) which supplied the banner and the Clinocchio costume,
FReeper Doctor Raoul of the (excellent and highly active) Chapter of Free Republic from "the Other Washington" (D.C.) who supplied the, um, "toasty" devil's head and sign.
And of course thanks to FReepers Chad Fairbanks, LibreOuMort, Arbor Guy and Libertina for turning out, and a very hearty welcome to those who turned out today and are joining FreeRepublic as a result! -Eala